John Lefebvre has, to say the least, a pretty unusual profile for an emerging rock artist. He didn't write his first song until his was 45, and didn't record his first album until he was 56. A busker during his roustabout youth in Calgary, he was a lawyer during what he calls his "wasted" adult years, when his musical interests had to take a back seat to supporting his family.

Then, in 2007, he found himself with time on his hands in Los Angeles. As co-founder of Neteller, a Pay Pal-like system for online gamblers and other consumers that made him millions, he was busted for violating a New York State ban on online gambling. While awaiting trial, he went into the studio with veteran producer Brian Ahern, a fellow Canadian who had been impressed by a demo that Lefebvre's friends had talked him into sending, and recorded "Psalngs," an oddly compelling double disc of snarling anti-establishment commentaries, spiritual hymns to God's green Earth and love ballads.




A gruffly outspoken, Zen-spirited, larger-than-life fellow who argues that U.S. gambling laws are archaic, hypocritical and an abuse of the criminal authority (his company, now part of Neovia Financial, still operates out of England and has customers in nearly 200 countries), Lefebvre is continuing to make up for lost time while awaiting sentencing following a plea bargain. His new two-CD release, "Initial Album," is more streamlined than his free downloadable debut – it has a mere 18 tunes, 10 less than "Psalngs" – but is no less expansive. Produced by Ahern with such legends as drummer Jim Keltner and Little Feat keyboardist Bill Payne, it announces the arrival of a remarkable talent.

The great thing about art is that it doesn't question how genius arrives or where it comes from. All that matters in this case are the words, the music and the deep personal expression that fuses them. Lefebvre, who has been playing songs since learning "The Cowboy's Lament" on his Aunt Martha's guitar when he was a kid, was a singing-songwriting time bomb waiting to go off. And indeed, his songs go off in every stylistic direction: snarky Warren Zevon-like rockers, organ-dappled, Procol Harum-like reveries, rockabilly and country tunes inspired by the likes of Hank Snow and Johnny Cash, jaunty jazz ditties.

At a time when so much popular music is about style, attitude and production values, Lefebvre's emphasis on feeling and honesty – "When I'm writing songs, they have to be things I feel down in my feet" – has a certain throwback quality. He came of age during the glory days of '60s, when the Beatles, Jimi Hendrix, Bob Dylan, the Beach Boys, the Kinks and Jethro Tull left their mark on him and the psychedelic life style served him well (except when he spent time in prison for selling acid to an undercover policeman). "At 17, I felt I was experiencing the core of the universe," he says. "I knew what life was about. My life has been a miracle of "refinery" ever since."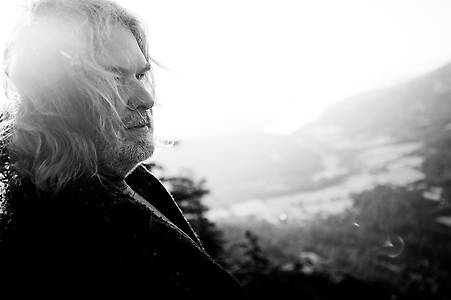 Lefebvre also has been strongly influenced by the earthy singing and songwriting of Tom Waits and Elvis Costello. "They share a vision that penetrates to the most sublime and most despicable aspects of human nature," he says. "Waits' personae in particular – the guttersnipes and down-and-out guzzlers, are so unlike what goes in popular music generally. Looking at the world way it really is."

A colorful cast of characters populates "Initial Album." There's the ecologically driven beauty in the cheeky rocker "Go Go Green" ("Changed her nylons for sheer bamboo/Lipstick comes from her garden, too") and the oil jerk in "Plan It" ("I've got my Standards, I live in a Shell, I put an X on every gallon I sell"). There's the down-on-his-luck individual on the corner in the affecting "Lee" ("Lost more friends than you have ever had/Now some days Lee remembers he's a dad") and the helpless boozer in "Juice" ("I sacked sherry in Bonners Ferry, cut vermouth outside Duluth/In Talahass or Tuscaloos, it's no use, I can't quit the juice").

But there are also heartfelt reflections on the glories of the planet like "Life on Earth" ("love and light/peace at night") and a lovely instrumental, "Emily, There Are No Words," written for his daughter. Says Lefebvre, "It came to me as I sat at the piano November 15. I taught it to the band and recorded it November 16. I e-mailed it to my daughter Emily on November 17 for her birthday November 18. "I danced her in my arms as an infant to 'Heart Attack and Vine' and she still loves Tom Waits. She took me to see him in Dublin last summer. But now, she turns me on to people like Joanna Newsom."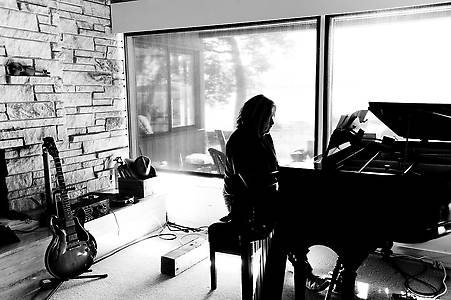 Yes, if you're wondering, Lefebvre was advised to put out a single disc this time and save some of his tunes for subsequent releases. But he wouldn't budge on his twofer approach. "I've got this avalanche of work done, I've had this baby, and I'm not gonna keep it inside me," he said. "Who cares about albums these days, anyway? Kids download and choose what they want. I'm just giving them more to choose from."

Ahern, longtime producer of Emmylou Harris and Anne Murray, is partly to blame for the glorious excess. With a cast of players also including pedal steel wiz Greg Leisz and celebrated session guitarist Dean Parks, Lefebvre (no slouch on guitar and keyboards himself) knocked out songs so efficiently, there was plenty of studio time left when he was finished. "The guys were all dressed up with nowhere to go," he said. "Brian was threatening me with cover songs. I said wait a minute, I gotta go upstairs." When he came back down, he had more first-rate originals ready to record.

Lefebvre makes meaningful noises in his nonmusical life as a director of the David Suzuki Foundation, an environmental organization, and a supporter of the Dalai Lama Center for Peace and Education. Both groups are based in Vancouver, which he lives across from on picturesque Salt Spring Island. As much as he embraces Zen, and "coaxing and coddling people into a new consciousness," he deletes no expletives in railing against the apathetic response to global warming and overpopulation.

"We're heading for the fucking wall and people are worried about the Black Hawks beating the Canadians or hating the BMW 5 because it doesn't have the lines of a 7," he said. "We have to wake up and take this miracle that has befallen us, this glorious planet, more seriously. We have to open up our eyes before it's too late, or our grandchildren will face untold chaos. There's no one who can save us from disaster but ourselves."

For interviews with John Lefebvre please contact: